Shanghai Richeng Electronics Co., Ltd. Booth 2D-2
         Shaanxi is the largest military industry province in the country. Shaanxi Province is a major aviation industry province. It occupies one quarter of the country's aviation professionals and high-precision equipment. It is also an important base for the design, research and development, test flight and production of large and medium-sized aircraft in China. Has a group of exclusive aviation industry resources. Shaanxi National Defense Military System has a comprehensive scientific and technological strength, including nuclear industry, aviation, aerospace, weapons, ships and local military (excluding electronics, troops in Shaanxi enterprises), and nearly 200 enterprises and institutions, including 61 production enterprises and research institutes. There are 27 households with 280,000 employees, including 97,000 scientific and technical personnel. There are more than 100,000 sets of electronic testing equipment, which basically form China's important national defense industry research, design, testing and production bases. The Western China Expo is an international, professional and advanced brand exhibition, approved by the Ministry of Science and Technology of the People's Republic of China, China Council for the Promotion of International Trade, China Machinery Industry Federation, China Peaceful Use of Military Technology Association, National Defense Technology Industry Bureau Information Center, China National Defense Science and Technology Information Society, Shaanxi Provincial Defense Technology and Aviation Industry Office, and Xi'an Municipal People's Government. It is scheduled to be held from March 14th to 17th, 2019 at the Qujiang International Convention and Exhibition Center in Xi'an.
At present, Shaanxi Province has formed Xi'an Yanliang National Aviation High-tech Industrial Base, Xi'an National Civil Aerospace Industrial Base, Xi'an Weaponry Industrial Technology Industrial Base, Xi'an Ship Science and Technology Industrial Park, Hanzhong Aviation Industrial Park, and Weinan Pucheng General Aviation Industrial Park. Military and civilian integration of industrial bases. Under the new economic normal, Shaanxi, as a new starting point of the Silk Road Economic Belt, will seize the strategic opportunity of the "Belt and Road" and bring into play the role of major national projects, and strive to promote China's aerospace equipment, new materials, new products and latest achievements. International exchanges and cooperation will further enhance the market share of China's independent innovation products in domestic and foreign markets. The Western China International Trade Fair Aerospace and Defense Military Equipment Exhibition, Aerospace and Defense Military Equipment Reverse Purchase Conference will comprehensively build exchanges and cooperation between supply and demand through brand product exhibitions, project docking, trade negotiations, and theme forums. Purchase order platform.
   Shanghai Richeng Electronics Co., Ltd. - RCCN, after years of steady development, has become an excellent supplier of manufacturing solutions. More than 5,500 high quality products for customers worldwide: wire trunking, cable glands, metal fittings, hoses, cable ties, terminal blocks, wiring signs, metal hoses and hose fittings, mounting brackets, end straps, heat Shrinking casing, retaining sleeve, nylon rivet nylon screw, isolation column, new energy vehicle wiring harness and other fifteen categories of products. The sales market is diverse, including new energy, telecommunications, equipment manufacturers, construction, utilities, maintenance operations, office automation and factory automation, and intelligent buildings. The products have passed the certifications: ISO9001, 14001, TS16949, UL, CE, ROHS. In our full range of products, we can find high quality products that meet your different installation needs.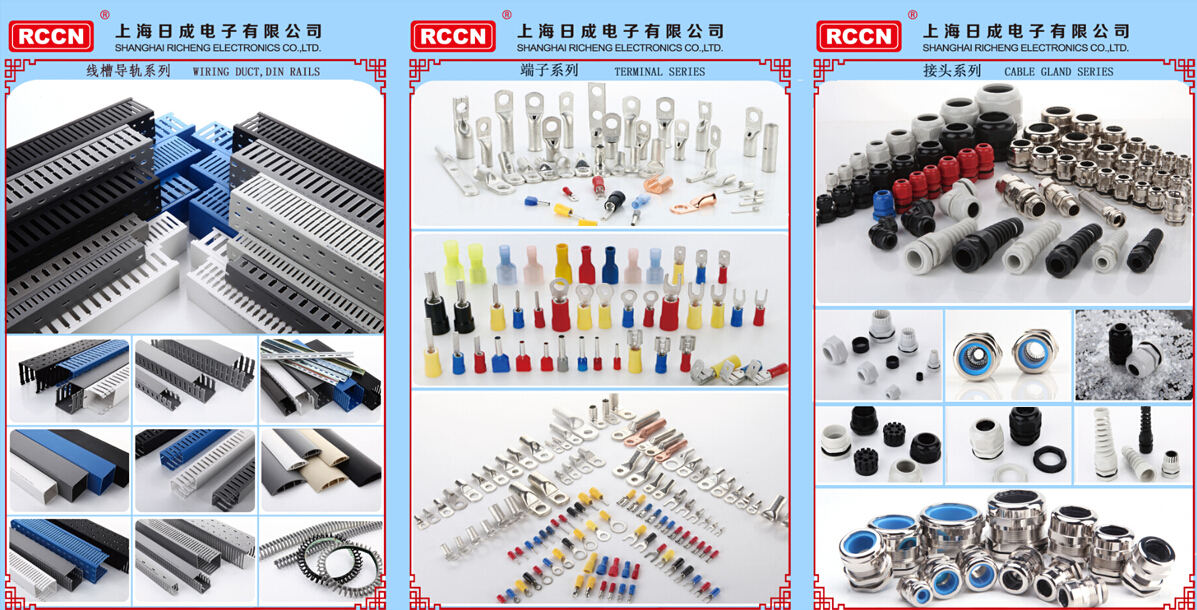 * Fast delivery of goods to help you reduce the cost of inventory.
* A variety of different products are available to provide one-stop service. Save your administrative and shipping costs with one order.
* Trained staff can answer any questions and make sure you are buying the products you need.
*Our products can meet your needs in any equipment.
* Nisshin has obtained ISO9001, TS16949, UL, CE, ROHS certificates, which proves the determination to focus on quality in all aspects.
*ISO9001, TS16949 represent all the operating procedures of Nisshin in design, procurement, manufacturing, testing, document processing, transportation and service, all in line with international standards.
       We will be waiting for you at the Qujiang Convention and Exhibition Center in Xi'an from March 15th to March 18th, 2018!