The global solar energy industry can enter the terawatt era as early as 2022, but the premise is that governments must formulate appropriate stimulus measures in the post-new crown epidemic era.
This is the main point of view of SolarPower Europe (SPE)'s "Global Market Outlook 2020" report released today. The report also warned that due to the global epidemic, the development of solar energy projects will shrink by 4%.
According to the report, solar energy development in 2019 was 116.9GW, an increase of 13% over the previous year. This figure is basically consistent with the figures proposed by the International Energy Agency, Bloomberg New Energy Finance and IHS Markit, the figures proposed by the latter are 114.9GW, 118GW and about 120GW, respectively.
The International Renewable Energy Agency (IRENA) remains the exception. In April, IRENA had predicted that the solar energy development in 2019 was only 98GW.
Among all the newly installed power generation equipment last year, solar energy accounted for only slightly less than half (48%). At the same time, the installed solar capacity also set a new record. In view of this, SPE data is very important.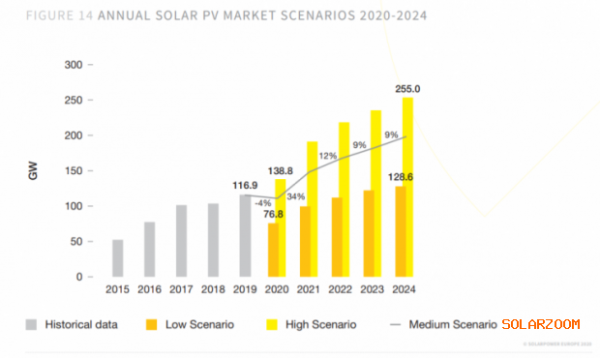 According to SPE's mid-expected program, these figures will enable global solar power generation to reach 1.4 TW in 2024, while the more ideal conditions in the high-expected program will allow power generation to reach 1.67 TW in the same year.
Michael Schmela, SPE's executive consultant and director of market information, said that by 2024, the global annual market under the high-expectation plan could reach 255GW.
"However, this is the most ideal situation, that is, policy makers in important markets have decided to benefit from solar energy and put solar energy in an important position in the new crown epidemic economic recovery package. This not only helps the economy rebound, but also Help these countries make progress in achieving energy and climate goals