Global 2020 new energy passenger car sales are expected to be 1.7 million, down 18% year-on-year. The New Crown epidemic interrupted the strong growth of the new energy vehicle industry for ten consecutive years. However, this year's decline in fuel car sales is expected to be even greater (23%). The long-term future of electrified transportation will not change.
The newly released "Long-term Outlook for the New Energy Vehicle Market" report pointed out that by 2040, new energy vehicles will account for 58% of global passenger vehicle sales and 31% of passenger vehicle ownership. In addition to passenger cars, new energy vehicles will account for 67% of the bus ownership, 47% for two-wheeled motorcycles, and 24% for light-duty vehicles.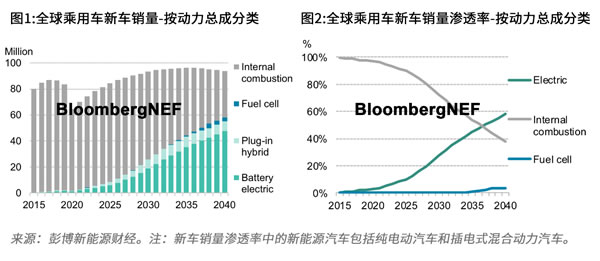 The development of new energy vehicles has a profound impact on oil demand and the electricity market. At present, the electrification of transportation mainly based on two-wheeled motorcycles has reduced fuel demand by nearly 1 million barrels per day. By 2040, electrification of the entire transportation sector will reduce the average daily fuel demand by 17.6 million barrels. At the same time, the demand for charging various types of new energy vehicles is expected to increase global electricity consumption by 5.2%.
Bloomberg New Energy Finance's analysis shows that global fuel car sales have peaked in 2017. Even though the epidemic may recover briefly afterwards, in the long run, fuel car sales will continue to decline. With the change in the global population structure, the acceleration of urbanization and the growth of shared travel services, despite the continuous growth of passenger car ownership with economic development, new car sales will peak in 2036. In 2020, new energy vehicles accounted for 3% of global new car sales; it increased to 7% in 2023, and sales of new energy vehicles reached 5.4 million in the same year.
At present, there are 7 million new energy passenger vehicles in the world, more than 500,000 new energy passenger vehicles, nearly 400,000 new energy logistics distribution vehicles and trucks, and electric two-wheeled motorcycles (including motorcycles and light vehicles) Motorcycles and scooters) have 184 million vehicles. The world's largest market for new energy buses and electric motorcycles is China.
The report also analyzed the impact of the new crown epidemic on public transportation. Although countries are gradually relaxing the blockade measures, the impact of the epidemic on public transportation cannot be recovered within a short period of time. The decline in bus and subway passenger traffic may continue for some time, and the degree of urban traffic congestion may increase. Although shared travel service operators were hit hard by the epidemic, they will quickly recover with the support of takeout, logistics, and micro travel services.